"The Adirondack wilderness may be considered the wonder and glory of New York. It is a vast natural park, one immense and silent forest, curiously and beautifully broken by gleaming waters of a myriad of lakes, between which rugged mountain ranges rise as a sea of granite billows ... It is this region of lakes and mountains ... That our citizens desire to reserve forever as a public forest park."
Verplanck Colvin, 1873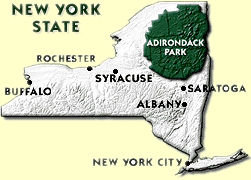 The Adirondack Park, New York's quiet place, the East's greatest wilderness, playground for millions, home for 130,000 New Yorkers, is the most unusual park in the United States. How can one park be so special? The Adirondack Park is a varied place; untouched forests mirrored in thousands of ponds and lakes; quiet wilderness trails; mountains with spectacular views; sparkling streams and long quiet waterways; rich timber producing lands; small communities nestled in deep mountain valleys; and many resorts close to natural wonders.

The Adirondack Park is unique in its intricate mixture of public and private lands. The Park is a patchwork of parcels, large and small; some, the Forest Preserve, belong to all the people of the State, others to industries and individuals. About 130,000 people live year round in its 105 towns and villages. Many of them provide the facilities and services for several million visitors each year. The Adirondack Park lies within a day's drive of 60 million people. It is also home to those who work in forestry, agriculture, and mining which make up the balance of the regional economy.

The heart of this great Park is its treasured public lands, the Forest Preserve, which was created by an act of the Legislature in 1885. "The lands now or hereafter constituting the Forest Preserve shall be forever kept as wild forest lands. They shall not be sold, nor shall they be leased or taken by any person or corporation, public or private." In 1884 a "Blue Line" was used to delineate a proposed park boundary. That Blue Line has been used to delineate the Park since 1892 when the Adirondack Park was created to encompass that portion of the Adirondacks which included the Forest Preserve and the intermixed private lands. During the last 100 years, numerous purchases have increased the Forest Preserve from the original 681,374 acres to its present 2.6 million acres. The Blue Line, originally encompassing 2.8 million acres, now encircles nearly six million acres.

The harmonious blend of private and public lands give the Adirondacks a diversity found nowhere else - a diversity of open space and recreational lands, of summer homes and year round communities, of wildlife and flora, of mountains and meadows.

A FEW FACTS ABOUT THE PARK:

SIZE: Almost 6 million acres (9,375 square miles) and 2.5 times the area of Yellowstone National Park (roughly the same size as the state of New Hampshire).

OWNERSHIP: 2.6 million acres (43%) are state owned, constitutionally-protected, "forever wild" Adirondack Forest Preserve belonging to all the people of New York State. 3.4 million acres (57%) are private lands devotes principally to forestry, agriculture and open-space recreation.

POPULATION: 130,000 permanent and 200,000 seasonal residents. Several million tourists pass through the Park annually.

GEOGRAPHY: The western and southern Adirondacks are a gentle landscape of hills, lakes, ponds and streams. In the northeast are the 46 "high peaks," 42 of which are over 4,000 feet (including nine alpine summits) spread over 1,200 square miles. Highest is Mount Marcy at 5,344 feet. These mountains are survivors of an ancient geological formation; the erosion-resistant bedrock, accounting for the height of the mountains, is an estimated 1.2 billion years old.

FLORA AND FAUNA: The spruce/fir and beach/birch/maple associations reach their crowning glory in Adirondack forests. Seventy tree species are native to the Park. Wild flowers abound, and hundreds of species of shrubs, herbs and grasses may be encountered in a single day's outing. The fisher, American marten, golden eagle, and spruce grouse are among the unusual wilderness wildlife. Big game animals are white-tailed deer and black bear. Occasionally moose are seen. Animal life includes 55 species of mammals, 218 species of birds (193 nesting), 35 species of reptiles and amphibians, and 86 species of fish.

WATERSHED: The Adirondacks form the headwaters for most or part of five major basins: Lake Champlain, and the Hudson, Black, St. Lawrence, and Mohawk rivers. Within the Park are 2,800 lakes and ponds and more than 1,200 miles of rivers fed by an estimated 30,000 miles of brooks and streams.

RECREATION: The range of sports and outdoor recreation opportunities is unparalleled in the eastern United States. The Adirondack Park offers boating of all kinds, horseback riding, camping, picnicking, hiking, mountaineering, fishing, swimming, water skiing, scuba diving, nature photography, downhill and cross-country skiing, ice skating, snowmobiling and snowshoeing. The U.S. Olympic Committee has designated the Lake Placid-Wilmington area (home of the 1932 and 1980 winter Olympics) as a major winter sports training center. There are 2,000 miles of trails throughout the Park, more than half of them State-maintained. A north-south wilderness trail runs 130 miles from Lake Placid to Northville. In addition, hundreds of miles of cross-country ski and snowmobile trails are scattered throughout the Park, a good portion on private lands. A popular canoe route begins at Old Forge in the southwest and follows a string of lakes, ponds, rivers and portages nearly 100 miles to Tupper Lake and the Saranac lakes in the north-central region. The St. Regis canoe area, with 57 interconnecting lakes and ponds near Saranac Lake, offers a unique wilderness experience.

"None (other than state and national parks) has the unique development that is Adirondack history. Few have thriving villages next to the state woods and permanent population that lives the year round with the woods at the back door, setting a pattern of life unique in America. It is that inseparable connection between the Adirondack woods open on all sides, and the Adirondack people that makes the area what it is."

William Chapman White, 1954

Excerpted from "The Adirondack Park," a publication of the Adirondack Park Agency.